Toshiba Introduces Superior Surge Resistance Power Amplifier for Automotive Audio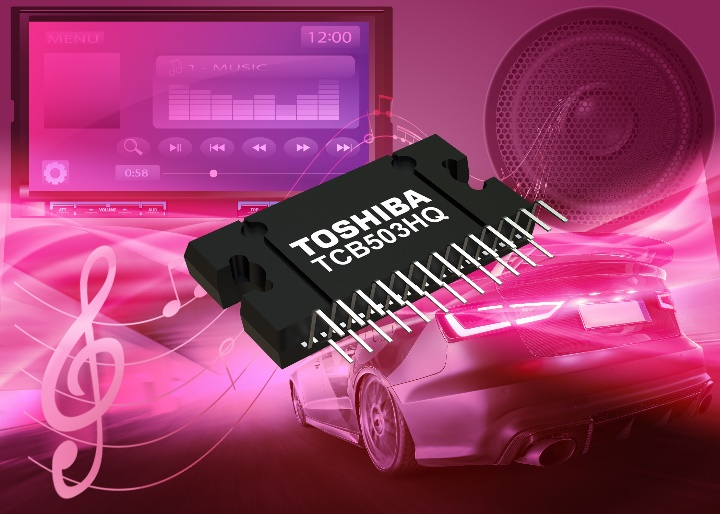 Toshiba Electronic Components and Storage Co., Ltd. (Toshiba) has introduced a new car audio 4-channel power amplifier TCB503HQ with excellent anti-surge performance. Sample shipments will start on the same day, and volume production is scheduled to begin in the first quarter of 2019.
The new product adopts Toshiba's mature car audio IC development capability, and achieves higher reliability by using the anti-surge analog fine process. The IC also supports 6V operating voltage and is suitable for vehicles with popular idle-stop systems in recent years. This function effectively suppresses popping caused by power supply voltage fluctuations.
Other features include built-in filters to increase immunity to external high-frequency noise, such as high-frequency noise from cell phone radio waves and rearview mirror adjustments to prevent abnormal noise.
By using the chip's clip detection signal to control the volume and tone control circuitry, the sound quality can be improved.
Product specifications
Product number
TCB503HQ
Maximum output
50Wx4ch (Vcc=15.2V, RL=4Ω, JEITA max)
voltage
6V to 18V
Output offset voltage
70mV
Output noise voltage
45uV (BW=A-weight)
Product features and features
High output power and low distortion
Built-in mute and standby functions, offset voltage detection, short circuit detection and output clip
Detect 6V working voltage (engine idle function)
Built-in protection circuit (overheat protection, overvoltage protection, power supply short circuit protection, short circuit protection to ground and load short circuit protection)
Package
HZIP25-P-1.00F